Chemistry Experiments You Can Do at Home

Introduction
| | |
| --- | --- |
| How can I carry out a chromatography experiment at home? | |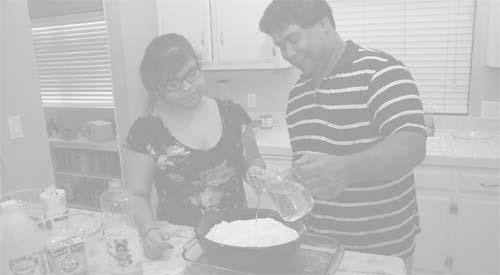 Extraction
Filtration
Chromatography
Rubbing alcohol (250 mL)
Small jars with lids (baby food jars work well)
Tree or plant leaves (5 will do)
Coffee filters
Pan containing hot water
Kitchen utensils
Tear a few leaves up into small pieces, and place the pieces from each leaf into their own small jar.
Add a small amount of rubbing alcohol to each, such that the leaves are just covered by the rubbing alcohol.
Place the lids on the jars, and then place them in the hot water for 30 minutes, replacing the water with fresh hot water if it cools. Swirl the alcohol in the jars every 5 to 10 minutes.
By the end of 30 minutes, the pigments from the leaves will dissolve, and the alcohol solutions should appear colored. The alcohol serves as a solvent for extracting the pigments in the leaves.
Cut long strips of coffee filter paper, remove the tops from the jars, and place one into each jar, with one end in the alcohol, and the other end outside the jar.
The pigments will move up the paper different amounts, according to their size. You should be able to see this separation as different-colored regions on the paper. Note that this process is a bit different from some of the separations we described in "The Modern Chemical Lab" based on polarity or other chemical properties. Unlike chromatography on silica gel, the paper is not strongly polar and thus does not interact as strongly with the polar pigment molecules.
Remove the strips of paper and allow them to dry. By comparing the relative distances the compounds travelled (technical term: retention factor) of the different compounds with one another, you should be able to identify whether the different leaves contained the same pigments. You can also try to make your alcohol solutions from other pigments, such as those in inks, foods, or drink.
Try to design a hypothesis you can test using this experiment, such as whether or not the leaves of different plants contain the same pigments, or whether different markers or pens contain the same inks.