Chemistry Experiments You Can Do at Home

Introduction
| | |
| --- | --- |
| How can I grow crystals of rock candy? | |
Crystallization and recrystallization
Solubility
Sugar (3 cups)
Water
Glass jar
A pencil
String (cotton; 15 cm will do)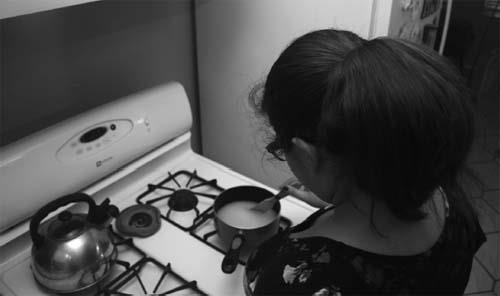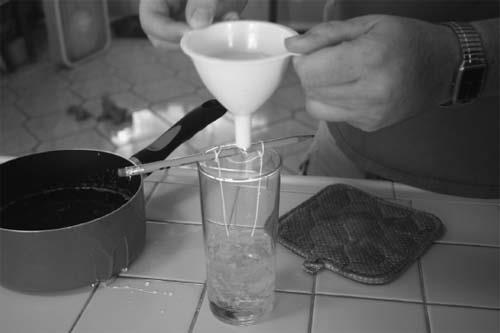 Pan (for boiling water)
Microwave or stovetop
(Optional) food coloring
(Optional) flavoring extracts
Begin by stirring 3 cups of sugar and 1 cup of water into a pan.
While stirring frequently, heat the mixture to a gentle boil. The goal is to just barely get the mixture to its boiling point, and then stop the heating (we don't want to evaporate off too much of the water). Then remove the solution from the heat source.
If you want to add food coloring or flavoring, now is a good time to do so. Either way, the candy is made of sugar, so it will still taste fine.
Cool the pot containing the solution in the refrigerator until its just below room temperature. In the meantime, tie the cotton string to the pencil, and place the pencil atop the jar, allowing the string to dangle down without touching the bottom. You may need to trim the string such that it doesn't touch the bottom of the jar.
You may wish to tie a lifesaver candy or other weight to the end of your string to hold it taut.
Wet the string and dip it in a little bit of crystalline sugar (not the sugar you just mixed with water and heated). These sugar crystals will serve as the nucleating sites on which the rock candy from your sugar solution will crystalize.
Pour the cool sugar solution into the jar, and hang the pencil and string into the solution.
Cover the jar with aluminum foil, a paper towel, or anything else, such that it will not be disturbed.
The crystals will take several days, or possibly as long as a week, to grow. Sugar from the solution will continue to crystalize onto the growing crystals on the string. You can check on the crystals occasionally, but you should not bump, tilt, turn, shake, or move the jar, if possible. The crystals will grow larger if you leave them undisturbed. Once they are done growing, remove your string, and your rock candy is ready to eat!