Chemistry Experiments You Can Do at Home

Introduction
Hydrogen bonding
Synthesis
Polymer chemistry
Cross-linking
Water
Elmer's glue (about 4 oz. or 120 mL)
Borax powder (4–5 tablespoons)
Bowl
Measuring cup
Small jar (doesn't need to have a cover)
Spoon or stirring device
Food coloring (optional)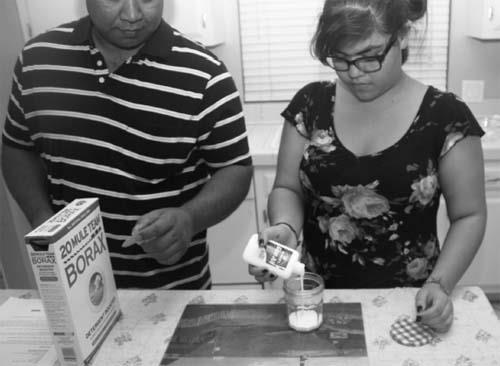 Pour about 4 oz. of white glue into the jar. The glue contains several components, including the polymers polyvinyl acetate and polyvinyl alcohol (see "Polymer Chemistry"). Polyvinyl acetate contains oxygen atoms that can serve as hydrogen bond acceptors, and polyvinyl alcohol contains hydroxyl groups that can serve as either hydrogen bond donors or acceptors.
Add ½ a cup (4 oz. or 120 mL) of water, and stir it in until it mixes with the glue. Note that there is already some water in the glue, and we are just adding more.
(Optional) add food coloring to the mixture to give your slime some color.
In the bowl, mix 1 cup (8 oz. or 240 mL) of water with 4 or 5 tablespoons of the borax powder. Stir this well. Here we are preparing a solution of borax so that we can add it to the mixture of glue and water in a more uniform fashion.
While mixing, slowly add the glue and water mixture to the solution of borax.
As you mix, you should observe the slime forming. Pick it up with your hands and knead it until it seems fairly dry. There will still be extra water left behind in the bowl; that's nothing to worry about. The borax serves to cross-link the polymers by forming hydrogen bonds with the oxygen atoms of the polymers in the glue. These interactions can readily rearrange to form new hydrogen bond donor-acceptor pairs with different oxygen and hydrogen atoms, which is what makes the glue so stretchy and readily deformed.
When you are done with it, you can store the slime in a plastic bag in the refrigerator.