anti-Zombie Products
There has been an explosion in the range of products on the market which profess to either 'cure' the zombic condition or 'scare' off the walking dead. The Ministry of Zombies, working with What! Magazine, has investigated many of these products and most have proven ineffective at best, and dangerous at worst.
To date, these investigations have ensured that over 300 products were removed from public sale. The most high-profile product taken off the virtual shelf being the now notorious range of Banjo Brand anti-ghoul merchandise, which flooded the market in 2009 and included all manner of creams, potions and tonics professing to help the unwary defend themselves against the dead. However, the battle goes on and new products seem to be emerging every week.
The market for anti-zombie products is not regulated by any international body as the items fall outside legislation on medicines for human usage and standard consumer products. Here are the worst offenders.
Simply spread the small brown pellets around your property, adding more as required at any point where the dead gather. The creatures will be drawn by the meaty scent of the pellets and consume them. But at Monroe's, we care too much to hurt these misguided souls. Once they have consumed our pellets, the dead will drift away – their desire for living flesh gone. A humane solution to a human problem.
'A safe and humane way to ensure your home stays free of the dead.'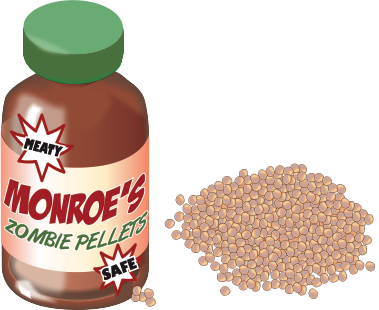 Product Review





An expensive and useless product. We found these pellets to be a mixture of sawdust and glue. They have no effect on the dead but did attract significant numbers of slugs and snails. In addition, cats and dogs seem to find these dry pellets irresistible and suffer from the unpleasant side effect of acute trapped wind.
Using the latest research, Bite-Away cream will cure bites and scratches from any of the infected. Apply liberally to the affected area, slowly massaging the cooling cream into the wound. Within hours, the healing process will begin and you will be completely virus-free within 24 hours. If dizziness or moaning occurs, this may be a side effect or you could be turning into a zombie. Please consult your medical professional before use.
'The world's first anti-bacterial virus cream specially formulated to heal those irritating zombie bites!'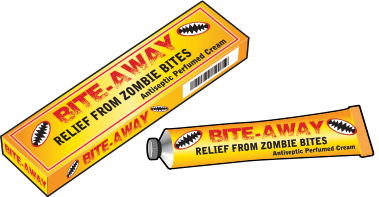 Product Review





This is a scandalous product, which is sold on multiple sites across the Internet. Tests have shown that it contains no active ingredients and derives from cream for treating piles. Don't trust it, don't buy it. If you get bitten and use it, then you deserve what you get – you have been warned!
Uncle ted's Anti-Ghoul Tonic

'Sometimes the old ways are the best and old Uncle Ted knew his tonic could really cure what Ails you, so we just had to get it to you good people!'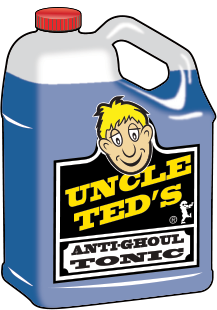 Back in the old days Uncle Ted discovered the secret to curing the blight that brings the dead back to life. If you are feasted on by one of these unfortunates, take three table spoons of this powerful tonic and you'll wake up the next day feeling fine and dandy. Uncle Ted's Anti-Ghoul Tonic has been curing the undead for almost one hundred years. It is also available in a gallon spray can, which you can shower in.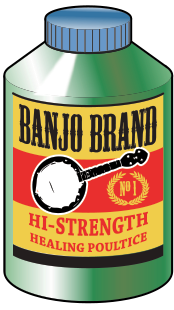 Banjo brand
Banjo Brand products are notorious in the zombie-fighting community for their ineffectiveness. The family making the range, which includes the dangerous Hi-Strength Healing Poultice said to 'cure' zombie bites, frequently moves between trailer parks across the United States and has so far eluded any state prosecution.
Product Review





This product has been on the market for decades and is a useless 'Hill Billy folksie' load of rubbish. Tests in the Ministry laboratories showed that it was at least 12% cat's urine and contained dangerous levels of lead and alcohol. Steer clear of the Banjo Brand and any of their products.
Developed by the US Government during the Cold War, Desiree Survival Fashions now brings you the world's first complete zombie-proof range of street wear. As others cower indoors, you'll be able to wander the streets, checking out the latest fashions in safety and the dead will ignore you as if you weren't there. Available in satin white, luscious peach and new naughty pink, a Micranax suit could be what you are looking for to ensure that just because the world's going to hell, it doesn't mean your sense of fashion has to as well!

'stylish protection against the walking dead in An outfit which combines catwalk fashion with a non-eatability index of over 90%.'
Product Review





We have no words to explain how poor this suit is. It is totally ineffective at protecting against the dead and retails on eBay at over £400. It appears to be a standard bee keeper's outfit with some glitter thrown on. We wonder what kind of fool would actually go for an obvious fake like this.