What is a zombie?
Before beginning any reading or course in zombie survival, it is essential that you have a clear understanding of what a zombie is, how it is created, the main types and, most important of all, how you can 'kill' a zombie.
A zombie is a dead body that has been brought back to animation by a complex RNA virus which leads the body to behave in a cannibalistic way
To be clear, the zombic condition, which is characterised by the slow stagger, lumbering walk and violent appetite for the flesh of the living, are all classic symptoms of the zombie virus. So, there is nothing supernatural, nothing spooky and nothing superhuman about the walking dead. They are simply humans transformed into very different creatures. But always remember that once a human has become infected with the virus, typically by a bite from an infected zombie, then the transformation will begin. More detail is given on this process further in this volume but know this:
There is currently no cure for the zombie virus and once contracted by a human, transformation into a zombie is a certainty.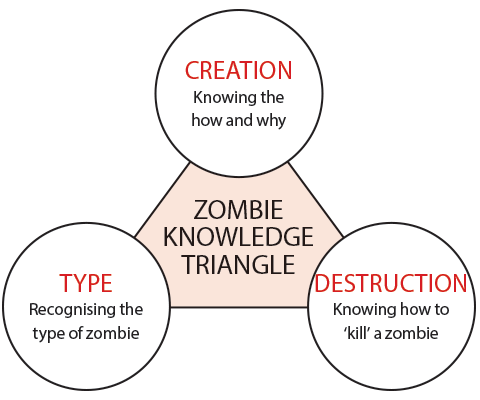 These three factors are the foundation of any zombie survival plan and are referred to as the Zombie Knowledge Triangle. All zombie survivalists must clearly understand how a zombie is created, be able to recognise the different types and deal with the walking dead.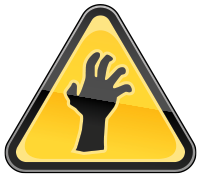 Zombie creation myths
In a recent survey by GeoPol, fewer than 23% of Americans realised that zombism is caused by a virus. Here is a breakdown that shows the level of misunderstanding among the public of the root cause of zombies.
View Infographic

Know the signs!
Scruffy Bohemian student or 'back from the office late' drunk may each display signs of the zombic condition, but it doesn't necessarily mean you should run and get the axe. It is vital that you clearly identify your target as a zombie before you get chopping. Be on the lookout for the following:
View Infographic